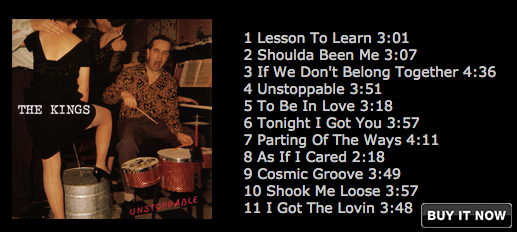 By the time the 90's rolled around The Kings had run into the proverbial brick wall career-wise. Max Styles was long gone and the band seemed to have a new drummer more often than Spinal Tap. It was impossible to make a full time living doing music anymore so everybody was doing the day job thing. Sonny Keyes had a young family so he really wasn't doing gigs with the band but was always willing to do sessions if the need arose. David Diamond also had a new family and he and Zero kept writing tunes and doing live shows often as a three piece power trio and sometimes with back up vocalist Josh Broadbent. With drummer Marty Cordrey this outfit played more than one hundred shows in and around southern Ontario. Sometime in '92 or so Zero was working as he had done for years as a stand-in in the film business in Toronto.
At this point the bread was pretty steady and as his living costs were less than the other guys he started to funnel some money into a recording project that was going to end up taking a year and a half. The Kings were looking for a studio that was near where Diamond and Zero lived and one day they saw an ad for Mainway Studio in Burlington, Ontario. This became home base for what was to become Unstoppable and the owner of Mainway, Atilla Turi,became the next in the long line of Kings drummers. Somehow as the project started it became apparent that in order to make a record that really sounded like a record The Kings would have to get an engineer/producer that knew what he was doing. Living not too far away was a man named John Punter. John is an Englishman who settled in Canada after marrying a Canadian girl. His work with Roxy Music, Slade and many others made him a perfect choice for what The Kings were doing.
Over the next eighteen months things started to take shape. Recording was done song by song mostly on weekends and nights. Different studios were used for beds and overdubs and mixing as they were needed. These included Mainway,Maclear Place, Metalworks(where a lot was done) and also Kensington and even some early stuff at singer Dan Hill's house with engineer Hugh Cooper. Different drummers were used as well. Atilla was doing programmed drums with samples. Gary Craig(Anne Murray,Jann Arden,Bruce Cockburn) and Marty Cordrey (Gowan,Ian Thomas) did live drum tracks when there was time for that. Gary actually added to a drum track for If We Don't Belong Together a beautiful Keyes-Zero ballad which had been originally recorded with drummer Rein Vares in '88 or '89 with engineer Mark Stafford.This great song features a guitar part by Andy Ryan and terrific sax playing by the wonderful Earl Seymour who has sadly left us in 1999. All the songs were produced by Zero and some co-produced with John Punter. Punter mixed all the tracks. Finally, Zero had run out of money and it was time to put the darn thing out. Being independent was no longer really a stigma and so The Kings released Unstoppable on their own Dizzy Records label. A distributor was found and the first single released. This was the catchy title track Unstoppable and with the help of some independent promotion (notably Bobby Gale) Unstoppable reached the top ten on the Canadian rock radio charts. Sales were fair but manufacturing costs and promotion was eating large chunks of capital.
During the initial release Zero was behind the scenes getting a licence from Warner USA to add the classic This Beat Goes On/Switchin' to Glide segue to the package. This was accomplished and in '94 the revamped CD came out. Also in this time frame Zero was talking to Griffin Music in Chicago and he and Neale Parker worked out a deal to get Unstoppable out in the USA. This happened and finally fans could get the old hits with new product. Things went well for a while but a bad business deal left Griffin filing for Chapter 11 bankruptcy. This left The Kings without product in stores until 1999 when after much effort and dead ends Zero talked to a man named Alan Fletcher at Warner Canada. When pitched on a re-release of The Kings ARE HERE including five bonus tracks (two brand new songs and three from Unstoppable featuring a new mix of Shoulda Been Me) Alan said "Sure, why not?" and that was that. Also in '99 Griffin had restructured and a deal was made for Party Live in '85. What all this means is that Unstoppable (Diamond and Zero consider this their best album to date) is unavailable in stores but can be ordered through this web-site.