Welcome to The Kings Are Here Dot Com the official website for the Canadian rock band The Kings. This site may not be as flashy as some, but we have tried to make it rich in content because that is what we believe our fans want. Anything you want to know about The Kings can be found here, and, if not, please email us and we will try to help you.  For Contact and Booking : thekings_@hotmail.com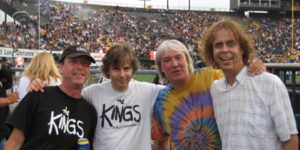 We are still at it and "it" has always been music. Since the earliest days The Kings have wanted to be an original recording act. That has always been the goal and after writing more than one hundred songs it is still the goal. The Kings are aware of the ups and downs in the music business (having experienced both) and have learned that the thing that no-one can take away from you is the love of music and the ability to make it. If people find this site through their interest in This Beat Goes On/Switchin' to Glide we hope that they will find there is a lot more to the band than those two songs.
Fans who know the first album 'The Kings Are Here' will be happy to learn that they can find it here, it's on CD (Are Here and More) with 5 bonus tracks. Also available are 'Unstoppable' (the fourth studio set), 'Party Live in '85 ', which has all of 'The Kings Are Here' in concert with some fun surprises, and 'Because of You', the latest and perhaps best Kings album. Go to our discography section to find out more about these titles and also Amazon Beach and RSVP. The amazing collection of early material, 'Anthology One', is on iTunes only.
The Kings were put together when Mister Zero met Sonny Keyes in Vancouver. Sonny is a fabulous musician and songwriter and he and Zero wrote some songs and after a while decided that they needed a band. Zero knew of some guys from high school back in Ontario and that's when Max Styles and David Diamond came on board. It became obvious after awhile that the backbone of any band is its lead singer and Diamond
had what was needed. Combine that with the songwriting that Keyes and Zero were working on and the guys knew they had the beginning of something. The fact that Diamond was a genius songwriter on his own was unknown at the very start, but his huge talent soon became a major part of what this band would become. His incredible voice gave WhistleKing (soon to be The Kings) a sound of their own. Any band that wants to get successful needs a voice that as soon as you hear it on the radio, you know who it is. From the moment the first demos were heard with Diamond singing the band knew they could get somewhere if they could come up with the tunes. That is when the work began and it took years of writing and rehearsing and gigs to get to the point that, when opportunity came knocking, The Kings were ready for it. To read about The Kings' story in greater detail please go to 'Discography' and click on any album cover for information on that period